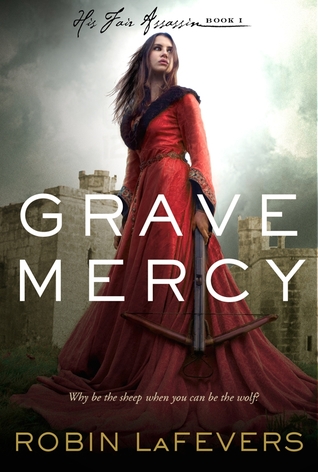 Rating: 4 Stars
Author: Robin LaFevers
Version: eBook
GoodReads Summary:
Why be the sheep, when you can be the wolf?
Seventeen-year-old Ismae escapes from the brutality of an arranged marriage into the sanctuary of the convent of St. Mortain, where the sisters still serve the gods of old. Here she learns that the god of Death Himself has blessed her with dangerous gifts—and a violent destiny. If she chooses to stay at the convent, she will be trained as an assassin and serve as a handmaiden to Death. To claim her new life, she must destroy the lives of others.
Ismae's most important assignment takes her straight into the high court of Brittany—where she finds herself woefully under prepared—not only for the deadly games of intrigue and treason, but for the impossible choices she must make. For how can she deliver Death's vengeance upon a target who, against her will, has stolen her heart?
Review:
So, it's been a while since I've posted a review, but here we go!
I purchased Grave Mercy after hearing it mentioned in Christine's YouTube channel and then finding it on sale at Amazon.com. The plot sounded super interested and the cover looked amazing - Yes, I judge a book by the cover.
I really prefer reading physical copies of books, but if I can catch a deal with the Kindle version, then I'll do so. With that said, it took me about a month of on/off reading to get through 47% of the book. The main problem I had with the story was that I kept getting bogged down trying to track characters and understand historical information. However, Ismae's adventure was enough to keep me pushing through for awhile. Eventually, I just put the book down to burn through some Rainbow Rowell novels.
However, for some reason this week, I had a strong desire to finish reading Grave Mercy. That being said, I picked back up where I left off and guess what? I finished the remaining half in two days! The second half was simply amazing- full of action, mystery, romance, and oh my god the plot twists. What's more, the story is mostly based on historical events. This means that the 12 year old Dutchess desperately fighting to save her country through marraige and the events that transpire are real!! LaFevers goes further to say that he excluded about half of the conspiracies that happened in real life to make the story easier to read. Wow, just wow - you'll see my point if you read the story, which I highly recommend you do!