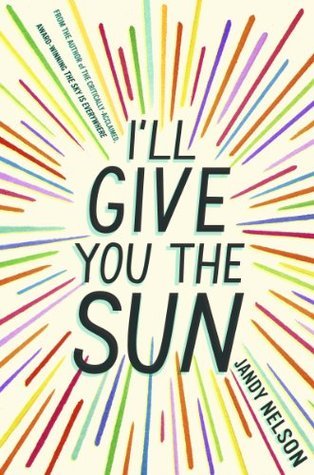 Rating: 5 stars
Author: Jandy Nelson
Version: Hardback
Goodreads:
A brilliant, luminous story of first love, family, loss, and betrayal for fans of John Green, David Levithan, and Rainbow Rowell
Jude and her twin brother, Noah, are incredibly close. At thirteen, isolated Noah draws constantly and is falling in love with the charismatic boy next door, while daredevil Jude cliff-dives and wears red-red lipstick and does the talking for both of them. But three years later, Jude and Noah are barely speaking. Something has happened to wreck the twins in different and dramatic ways . . . until Jude meets a cocky, broken, beautiful boy, as well as someone else—an even more unpredictable new force in her life. The early years are Noah's story to tell. The later years are Jude's. What the twins don't realize is that they each have only half the story, and if they could just find their way back to one another, they'd have a chance to remake their world.
This radiant novel from the acclaimed, award-winning author of The Sky Is Everywhere will leave you breathless and teary and laughing—often all at once.
Review:
I'll Give You the Sun wasn't only a contemporary, but almost a mystery novel as well. The reason I say this is because as you progress through the story, you gain more clues as to why Jude and Noah's relationship fell apart, as well as some shocking truths that escalated that separation. Also, on top of this being an extremely awesome story, Nelson tackles a few modern issues such as sexual identity; coping with death and grief; personal discovery and growth; and of course, love.
This story was unique in it's telling, because the chapters are told from not only alternating points of view, but also from different periods in time. For instance, one chapter might be coming from a 12 year old Noah, while the next will be told from a 16 year old Jude. However, the way she blended Jude and Noah's story together seemed almost effortlessly done, since the story progressed very fluidly. Needless to say, this method of storytelling was very interesting, because to progress further into the book, you had to delve deeper into the past.
As for the characters, I would probably say that Noah was my favorite. Although, I loved reading Jude's journey as she rediscovered/reclaimed her former self, Noah and I could relate on so many different levels. As for Noah, he is not your typical child, he's creative, funny, introverted, passionate, and a bit of an evil genius. Jude on the other hand, is bold, creative, superstitious, emotional, and extremely caring. Another one of my favorite characters was the grandmother, despite most of her appearances being in ghostly form. There's no way you couldn't like the grandmother, she had such an influential part in Jude's life and the "Bible" she was infamously known for, was simply hilarious! The dad on the other hand was pretty terrible. I couldn't believe some of the comments he made to his sonand I lost all respect for him when he fell apart when his children needed him most. Although, he does get a little redemption towards the end :).
I highly recommend this book to all my readers. It was one of the most touching and unique stories I've read all year. The connection between Jude and Noah, as well as both their journeys of self discovery are truly what make this book memorable. It's so much more than just a contemporary novel and it will quickly become one of your favorites. Also, you can't help but smile when you learn where the title comes from because it was so... moving.