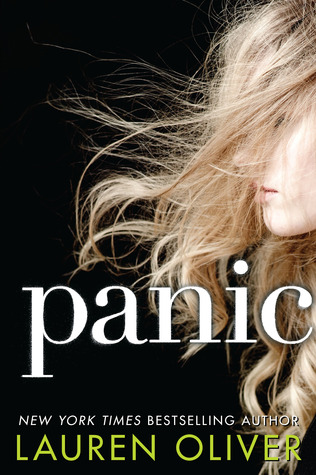 Rating: 5 Stars
Author: Lauren Oliver
Version: Hardcover
GoodReads:
Panic began as so many things do in Carp, a dead-end town of 12,000 people in the middle of nowhere: because it was summer, and there was nothing else to do.
Heather never thought she would compete in Panic, a legendary game played by graduating seniors, where the stakes are high and the payoff is even higher. She'd never thought of herself as fearless, the kind of person who would fight to stand out. But when she finds something, and someone, to fight for, she will discover that she is braver than she ever thought.
Dodge has never been afraid of Panic. His secret will fuel him, and get him all the way through the game, he's sure of it. But what he doesn't know is that he's not the only one with a secret. Everyone has something to play for.
For Heather and Dodge, the game will bring new alliances, unexpected revelations, and the possibility of first love for each of them—and the knowledge that sometimes the very things we fear are those we need the most.
Review:
This is one of my all time favorite contemporary reads and if you haven't read it yet, you need to do so ASAP. Literally, go purchase this book now.
The hook for this story is extremely enticing, or it is to me anyways. Part of this probably stems from the fact that I grew up in a small town in the middle of nowhere, not too unlike Carp - the story's setting. I can honestly see something like Panic being a real thing at my old high school, but thankfully it wasn't.
The challenges of Panic were extremely intense! The players know nothing of the challenges beforehand, except for receiving a small riddle detailing the location and hint of whats to come. As such, the reader goes into the challenge with as much knowledge as the players, which really adds to the mystery and suspense. My jaw literally dropped when I finally figured out what some of the challenges where. Personally, the second challenge was my favorite… I mean honestly, there's no way I would have made it.
The characters of Panic came across as being very real. Most of them come from a poor family and horrible situations, which drive them to win Panic ($$$$$). I don't want to give away anything, but Heather's situation truly sucked and you couldn't help but root for her to win. I don't think I could pick a favorite character, but maybe Heather or Ann?
Anyways, I literally could not put this book down and wanted to reread it as soon as I finished. I managed to push aside that want for two weeks before I read it again.. the story is just that good!