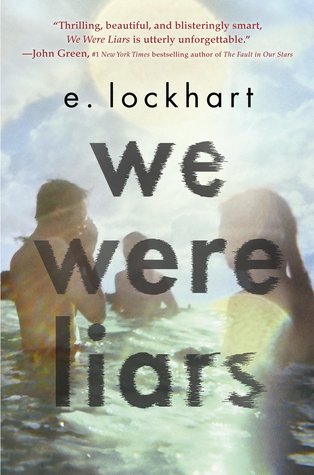 Rating: 5 Stars
Author: E. Lockhart
Version: eBook

GoodReads:


A beautiful and distinguished family.

A private island.

A brilliant, damaged girl; a passionate, political boy.

A group of four friends—the Liars—whose friendship turns destructive.

A revolution. An accident. A secret.

Lies upon lies.

True love.

The truth.




We Were Liars is a modern, sophisticated suspense novel from National Book Award finalist and Printz Award honoree E. Lockhart.




Read it.




And if anyone asks you how it ends, just LIE.


Review:
I went into reading We Were Liars pretty much blind, since all I knew was that it was a contemporary and about a group of kids. Throughout the book, what I thought the story was about changed not once, not twice, but THREE times. I'll try to explain what I mean without giving away too much:

At

first

I believed the story was about the narrators's childhood. Since most of the content was memories and her experiences on their private island. For this reason, I was disinterested in the first 30-40% of the book.

Yet, as I continued reading

, the story changed into a manipulation game and power struggle between family members. My interest level spiked.

Then

, the final part of the book blew me out of the water and became something I didn't expect entirely!

One thing I found unique was the narrator's use of graphic metaphors. For this reason, the opening of this story was a bit of a shocker. Even more so shocking, is that she doesn't give you any indication it's a metaphor until you keep reading and realize not to take it literal. Here's what I mean:

That June, summer fifteen, Dad announced he was leaving… My father put a last suitcase into the backseat of the Mercedes… Then he pulled out a handgun and shot me in the chest. I was standing on the lawn and I fell. The bullet hole opened wide and my heart rolled out of my rib cage and down into a flower bed. Blood gushed rhythmically from my open wood,

then from my eyes,

my ears,

my mouth.

Yeah... upon first reading this, my jaw dropped. Oh and by the way, metaphors not unlike the one above, are selectively placed throughout the whole of the story.

Another detail unique to the narrator is the incorporation of fairy tales, which help to illustrate current situations and foreshadow future ones. The first few tellings I took lightly, but by the third or so I started to read further into the lines and decrypt what she truly meant. It was fun to say the least.

As I said earlier, the ending of the book was mind blowing! It had me questioning SO many things. Who/what are the group of Liars? Why didn't they plan their actions logically? Is this even a contemporary? Seriously, read this book, but go into it blind or without knowing anymore than what I've written above.